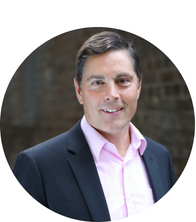 Meet Todd
"I've spent the past 20 years being part of the disruption of media. But over the next 10 years, I believe the opportunity will be in the financial services sector and I want to be part of that."
Todd Forest is the Managing Director of NAB Ventures. Through his experience as a start-up CEO and in senior leadership positions at large media and technology companies, Todd knows how a large company can be instrumental in the success of early stage businesses.
Todd was previously the CEO of Clipp Pty Ltd, a mobile payments and data business with a focus on hospitality. At Microsoft, he was the Head of MSN Asia Pacific, based out of Singapore and the Head of Digital at 9 MSN. Todd also held senior management positions in Nike and AOL in the US.
Todd has been a successful angel investor over the past 12 years via Tasman Ventures Fund where he invested in over a dozen companies in the US and Australia. He has served on the board of several venture backed start-ups. Todd relocated to Australia from the US in 2007 with his wife and two children. Todd has a BA from Dartmouth College and an MBA from Kellogg.