Features that go beyond everyday banking
Multiple users - different access
Add and manage multiple users and create different authorisation levels with varied levels of capability.
Uncapped transaction limits
Transfer amounts are only limited by your available funds and the set daily limits. You can also create a unique business PayID and make and receive real-time payments.
International payments and foreign exchange
Book foreign exchange deals and view currency conversion rates before you transfer.
Enhanced security features
Built-in security features reduce the risk of human error and can help prevent fraudulent activity.
Avoid manual reconciliation by downloading your financial files directly to most accounting programs.
Receive your NAB Connect reporting via SFTP (Secure File Transfer Protocol).
Manage your business banking on the go with NAB Connect
NAB Connect lets you manage your business banking from anywhere. Access your online statements and account reporting, and your direct entry and payroll services. You can upload domestic and international payment files, and enjoy many more standard and additional services.
Managing your account

Bank online with NAB Connect Mobile app
Manage your account balances, transaction history, create and authorise transfers between your linked accounts, all on your phone while you are on the go.
Check your current and end of day account balances and view your transaction history up to the last 30 days, wherever you are.

Manage your funds with ease, by creating and authorising transfers between your linked accounts.

See, review and authorise payments one at a time, or in a batch of 25, on the go using a 4-digit PIN.
Fee type
Fee amount

Domestic Payment

(Fast payment, Domestic payment overnight and BPAY® payments)

$0.25 per payment

Domestic payments between linked accounts free

Multi funds transfer

(Payroll and payment files)

$0.25 per payment
International payment with currency conversion
Free

International payment without currency conversion

(in AUD or from a NAB Foreign Currency Account in that same currency)

$20.00 per transaction
Other fees and charges may apply.
Help and support

Helpful resources to get the most out of NAB Connect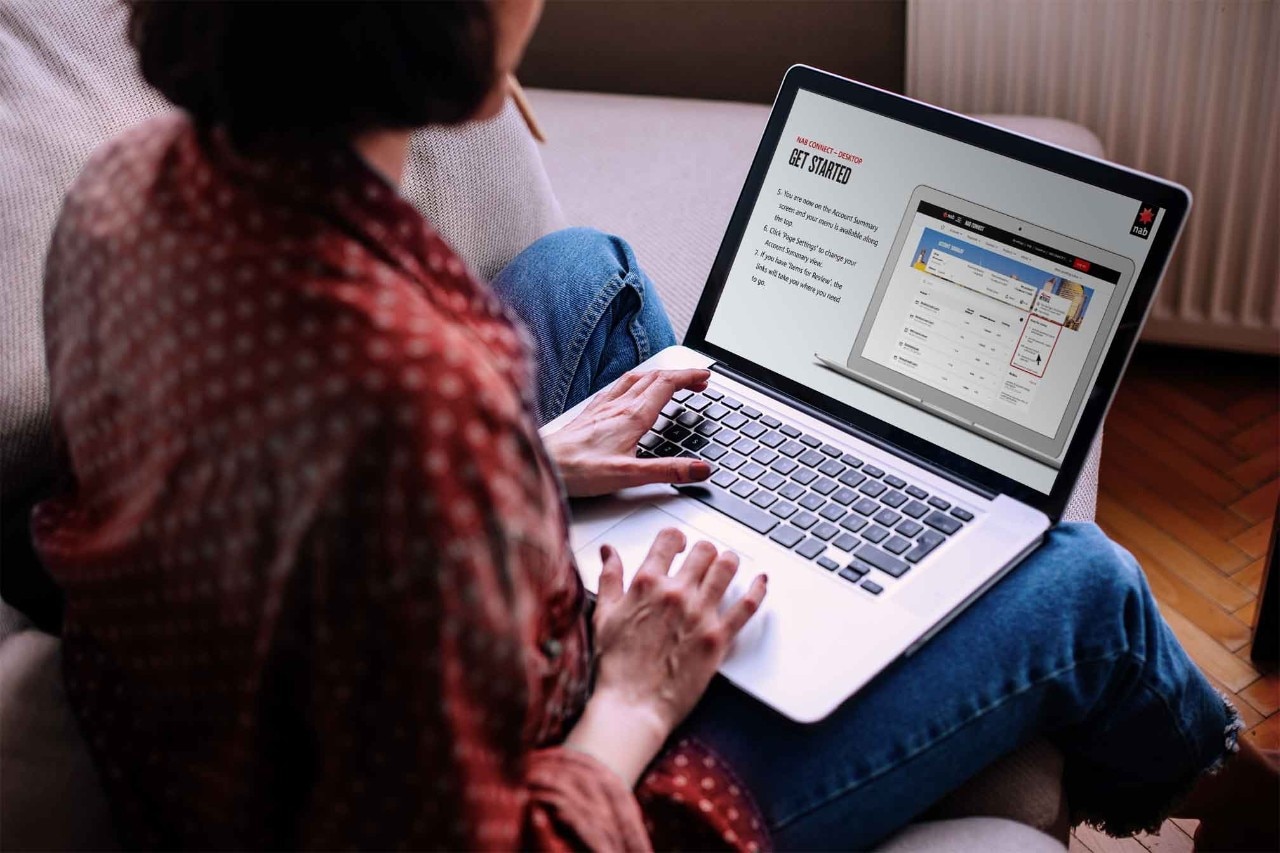 Our visual guides and demonstration videos help make the transition to NAB Connect even easier. You'll find help with logging in for the first time, setting up your profile, making payments, customising your security options and more.
Join our training webinar to learn more about how you can get the most out of NAB Connect.
When you're looking for answers, start by searching the support articles in our NAB Connect help section.
You might also be interested in
Solve problems quickly online with our easy-to-follow guides. Simply select a topic and we'll direct you to the information you need.
Visit our business banking contact page for how-to-guides and FAQs, as well as contact numbers.
Visit a NAB business banking centre
Let our business banking specialists help you in person.
Terms and Conditions
Apologies but the Important Information section you are trying to view is not displaying properly at the moment. Please refresh the page or try again later.
Android is a trademark of Google LLC.

iOS is a trademark or registered trademark of Cisco in the U.S. and other countries and is used under license.
BPAY is a registered trademark of BPAY Pty Ltd ABN 69 079 137 518.