Simple tips to enhance your security
Your NAB card offers speed and convenience with NAB's world class security technologies built in to protect you from fraud and theft. These simple tips also offer practical ways for you to help enhance your security.
For more information about card security please visit our protecting your card security section, or for more on secure shopping online, protecting your identity and lost card cover please visit our credit cards section.
How do I use an Automatic Teller Machine (ATM) more securely?
Only use a NAB ATM in an environment where you feel comfortable.
Be aware of your surroundings and of people that may be loitering near the ATM.
Be prepared to make your transaction and have your card ready when you approach an ATM.
Be careful that no one can see you enter your PIN at the ATM and stand directly in front of the ATM to minimise the chance of your transaction being watched.
Don't leave your cash, card or anything else behind after you complete your transaction. Take your receipt with you or place it in the secure bin provided at the ATM.
Do not count or display any money you receive from the ATM. Immediately put your money into your pocket or purse and count it later.
If the card reader on an ATM is obstructed or has a device protruding from it, do not use the ATM and notify the financial institution of the problem.
If anything about an ATM or other equipment appears unusual, do not use it. Fraudsters have been known to use fake equipment to steal cards or capture PIN details.
When entering your NAB ID, PIN or password, ensure no one can see your actions. Be aware of the location of security cameras and mirrors that may allow others to observe you.
What is card skimming?
Card skimming is a crime trend which sees criminals illegally placing electronic devices on the ATM façade, to capture card and customer details. The details are then used to produce duplicate debit/credit cards, which could be used by the criminals to fraudulently remove funds from the customer's accounts.
What is an ATM skimming device?
An ATM skimming device is a physical attachment that has been illegally installed onto an ATM to covertly gather customer bank card details together with the corresponding security Personal Identification Number (PIN) to illegally attain funds
How do I identify an ATM skimming device?
An ATM Skimming device may stand out and look 'out of place'. Some ATM skimming devices may be as small as the top of a pen. Many of these skimming devices can be electronically monitored by the criminal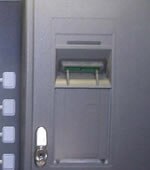 Photo 1: Depicts the skimming device attached to the original card reading slot on the ATM.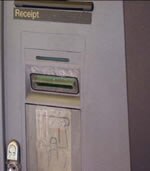 Photo 2: Depicts the original card reading slot. Note the adhesive marks used to attach the skimming device.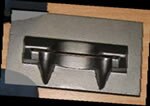 Photo 3: Depicts the skimming device after being removed from the ATM.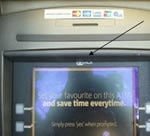 Photo 4: Depicts the false fascia that has been attached above the customer's monitor screen to conceal the micro camera used to capture the client's data. Note the NCR logo partial concealed.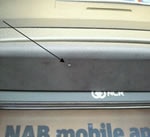 Photo 5: Depicts the pin hole opening in the false fascia that contains the micro camera.