Benefits and features
Benefits to you
Manage your cash flow with no dishonoured cheques or payments.
Payments processed before cut-off are available in your nominated account the next business day.

Simplify your reconciliation. Receive daily account reporting to help track your payments.

Reduce your costs by moving away from more costly payments channels such as cheques.

Save on time and effort with the ability to assign Customer Reference Numbers that are unique to each bill or invoice, simplifying reconciliation of payments received. You can also control the date and amount of payment.

Benefits to your customers
Greater flexibility means payments can be made anytime.
Secure and respected payment system accessed within internet or telephone banking.

Choice of paying by cheque, savings or credit.

Some Billers will provide the ability to set up scheduled and recurring payments so bills are always paid on time.
How does BPAY work?
BPAY is one of the easiest ways for you to collect payments and for your customers to pay you.

Your customer receives your bill.

The customer uses their bank's internet, phone or mobile banking to pay their bill.

They select from savings, cheque or credit account (if you decide to offer credit card payments).
They select BPAY from payment options, pay their bill and receive a receipt.

The customer's financial institution credits your account.

You receive the funds and the payment information from NAB.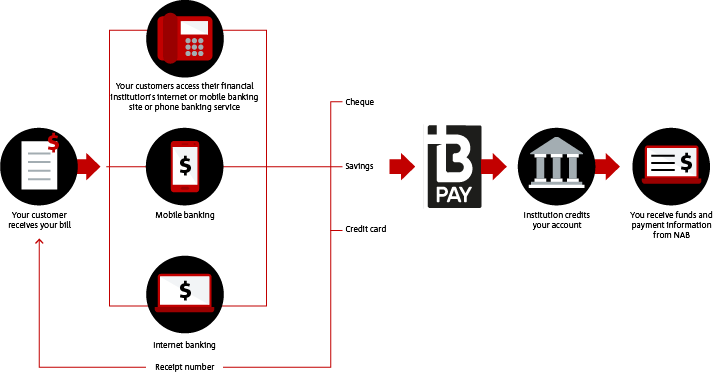 Is BPAY suitable for your business?
BPAY may be suitable for businesses that:
Send invoices either by email or mail
Need to easily reconcile payments

Use NAB Connect or Direct Link

Have a NAB business account

NAB Financial Snapshot will help you prepare a simple estimate of some key financial details for your first year of business, based on the information you enter.
| Fee type | Fee amount |
| --- | --- |
| Biller Fees (once only establishment fee) or change of sponsorship | $99 (GST inclusive) for each biller code |
| Transaction fees | $0.88 (GST inclusive) for each transaction |
Enquire online or give us a call to discuss your needs.
We'll have a chat about your business to see if BPAY is right for your needs.
You'll work with one of our implementation team members.
Contact us for merchant solutions and sales
Speak to a specialist for solutions, sales and enquiries. 
Terms and Conditions
Apologies but the Important Information section you are trying to view is not displaying properly at the moment. Please refresh the page or try again later.