Navigating NAB Connect
Welcome to NAB Connect. Below is a brief explanation of the NAB Connect navigation and layout.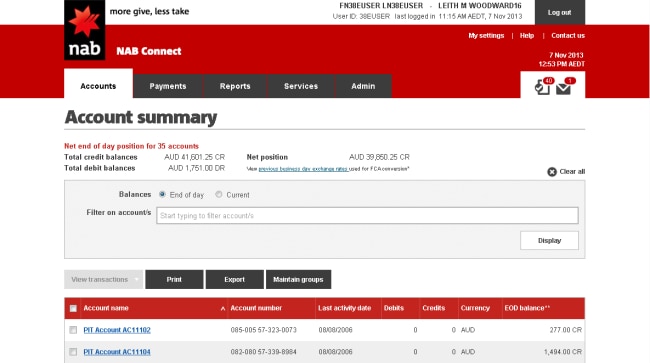 Home
Clicking on the NAB logo will take you back to the home / account summary screen.
Main menu
Use the main menu to access NAB Connect functions.
Logout
Log out of NAB Connect.
Payments awaiting action
The Payments Awaiting Action icon shows you how many payments require action. This includes payments and periodic payments that:
Require authrisation and can be authorised by you
Require approval and can be approved by you
Require repair and can be repaired by you
Secure messages
The secure messages icon shows you any unread secure messages.
My settings
Manage your user profile including: updating your password, change your secret questions, change your payment alert settings.
Contact us
Quickly access support contact information including operating hours.
Changing views
Quickly change to preset views, formats or information types.